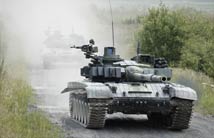 The defence and security sectors pose unique challenges for any mechanical or electronic product. Custom sensors for military vehicles need to meet stringent defence standards so that they remain reliable, even in the most challenging environments.
Reventec cut its teeth in top-flight motor racing where harsh environments, including extremes of vibration, temperature and stress, are normal. As a result, we have a unique perspective when it comes to designing custom sensors for military vehicles.
We incorporate the latest technologies and create innovative and highly-reliable products for use on land and air vehicles. If you're designing a new vehicle, upgrading or replacing an OEM part, we have the expertise to support your project.
Our user-programmable level sensors cover fuel and lubricant types used in a diverse range of theatres, from desert to arctic.
Our expertise is broad; whether you need a custom non-contact position sensor, liquid level or temperature sensor, we can help. Whether you need a non-contact position sensor that measures turret rotation or a programmable liquid level sensor for a UAV, Reventec has the expertise to support you, at pace and with innovation. 
If you're looking for an experienced electro-mechanical design team for your next project please contact us.