Reventec demonstrates how vehicle health sensors improve defence platform's ability to defend for longer
24 October 2023, Wiltshire, UK: Reventec releases new application video showcasing how their range of military-grade vehicle health sensors are vital for defence vehicle platforms.
Known for their advanced sensor technologies across the defence, motorsport and UAV markets, Reventec has forged a name for themselves over the past decade by delivering reliable, highly accurate and continuous measurement devices that perform in extreme environments. In their new 'Defend for longer' video, Reventec highlights their defence capabilities and displays their range of military vehicle sensors suitable for mil-spec applications, including land-based ground vehicles and unmanned aerial platforms.
The video debuted on two vertical LED panels integrated into Reventec's stand at DSEI and has now been merged into one video and released across their digital channels. Designed to demonstrate why Reventec sensors are integrated within various projects and how they work, the video is aimed towards engineering personnel at defence vehicle manufacturers and subsystem integrators.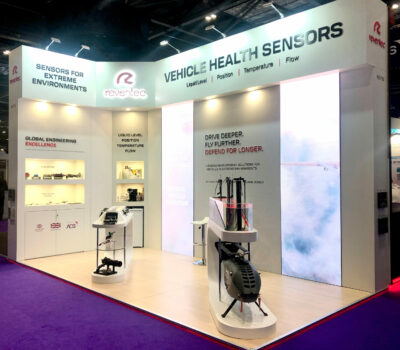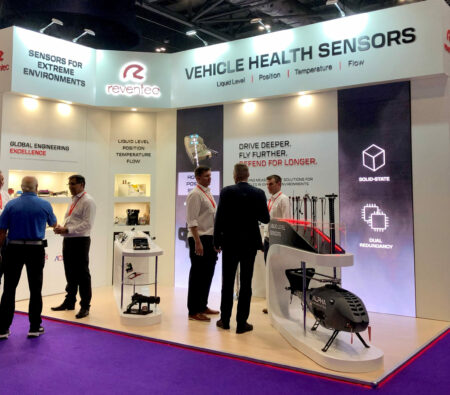 The new video was debuted at the DSEI Show in London
With a focus on the benefits of utilising Reventec's vehicle health sensor technologies, the 'Defend for longer' video showcases how accurate vehicle data is vital to mission-critical vehicles. Enabling military customers to optimise their defence platforms to drive deeper, fly further and defend for longer whilst supporting range extension ensures mission success.
Identifying where liquid level measurement, component movement sensing and temperature detection can be integrated on land and air platforms, the defence video illustrates how capacitive liquid level sensors and non-contact position sensors are beneficial and where they would be integrated in mil-spec applications.
Demonstrating different scenarios for Reventec sensors, the video highlights how oil level monitoring allows for preventative maintenance, real-time, accurate fuel level sensors deliver range extension in unmanned aerial platforms and non-contact, robust linear position sensors for reliable hydraulic measurement. With their technology field-proven in the military arena and developed to endure harsh environments in the air, on land or subsea, Reventec has experience engineering robust IP69K rated instruments that are vibration tolerant and shock resistant. These technologies are mil-spec EMC certified and designed to meet MIL-STD-461F and RCTA DO160F standards.
Benefits of high accuracy vehicle health sensing data, enables vehicle platform manufacturers and operators to:
Extend mission duration
Enable vehicle quick deployment
Improve predictive maintenance
Reduce vehicle downtime
Due to the nature of Reventec's custom-design, customer-centric approach to sensor solutions, all of the technologies highlighted in the video are adaptable to fit customers specific requirements and spatial constraints. Sensors are factory calibrated to achieve advanced accuracies of ±0.5% of reading and for simple plug and play installation.