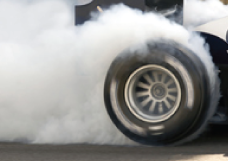 Fast reactions, creative thinking and absolute precision are essential in motorsport design and engineering.
Vibration, water ingress, heat and dirt can all cause sensors to fail. A lack of accurate performance data for a vital component can be the difference between winning and losing. Reventec sensors provide accurate data, even under the harshest conditions. It's the reason why so many Formula 1®, WEC and IMSA teams choose Reventec.  
We've built our reputation on being able to react quickly to urgent custom design requests and many of our products are approved with FIA homologation status.
Reventec position sensors use solid-state TMR technology. This means there are no moving parts and they don't need to touch the component that is being measured. Therefore, we've designed them to measure across air gaps of up to 40mm and even measure through non-ferrous materials, plastics and road debris. It means we deliver levels of accuracy and reliability unmatched by potentiometers and other legacy technologies.
We have more than a decade of motorsport design and engineering experience and we can develop reliable solutions, in record time. Take a look at how we've solved some of our customers' position sensor challenges.
So, if you have custom sensor requirements and you're under time constraints, we're here to help. Contact us.