How do capacitive liquid level sensors work?
Two concentric tubes acting as electrodes within a tank are coupled to form a capacitor. The amount of energy the capacitor can store, known as the capacitance, is affected by the volume of liquid. As the liquid level fluctuates, so does the amount of stored energy. The higher the liquid, the greater the capacitance. The lower the liquid, the lower the capacitance. Capacitive liquid level sensors contain no moving parts that may degrade over time. They can be used in any orientation whilst maintaining accurate measurement.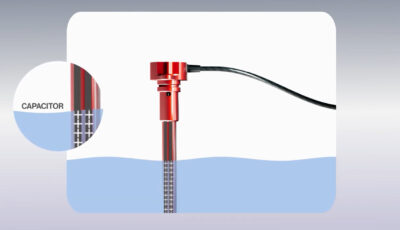 The solid-state design of the sensor and robust construction ensure suitability for harsh environment applications. Reventec capacitive liquid level sensors are manufactured from a range of materials including: anodised aluminium to provide robustness for industrial applications, carbon fibre for the lightweight requirements of race vehicles and unmanned aerial systems, and stainless steel for rugged high vibration environments common in off-highway vehicles.
The sensor head is compact and features sealed electronics suitable for harsh environments. The device has a typical operating temperature range of -40°C to 125°C (-40°F to 257°F), with additional 150°C (302°F) designs available. Temperature measurement can be added on select models. Our standard liquid level sensors have a variety of mounting formats to choose from. Additionally, fully customised designs are available. All liquid level calibrations are complete in the intended fuel to achieve high accuracies of ±0.5% of reading. Output options include analog, 0-5V, and CAN.